Workers Compensation Specialist Q&A
Work related illnesses and injuries happen, and Priority Urgent Care offers medical evaluations and we also accept walk-ins. Call us today or book an appointment online. We have convenient locations to serve you in Ellington CT, Unionville CT, East Haven CT, and Cromwell CT!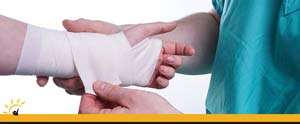 Table of Contents:
What is workers compensation?
How does workers compensation work?
What does workers compensation include?
How can our clinic help with employment health/occupational needs?
What is workers compensation?


Workers' compensation is a government authorized system that provides monetary benefits to workers who become disabled or injured during the course of their employment and is a type of insurance that offers workers compensation for disabilities or injuries sustained as a result of a workplace accident. Each state in the United States has its own workers compensation laws, the circumstances in which workers' compensation is available to workers, the number of benefits they may receive, and the duration of the benefits paid to injured workers, vary by state.

How does workers compensation work?


Workers' compensation coverage is governed by state law. Like with tax laws and payroll rules that differ a little from state-to-state, it is important to know about the rules of your state involving workers compensation. There is a separate federal workers' compensation system for anyone working for the federal government, like the U.S. Post Office, as one example. The overall structure of the workers' compensation system is very similar however from state-to-state. The main differences are in the actual rates paid to the injured employees and the employer rules that employees and insurance companies must also abide by. It is important to know that not every problem that occurs in the workplace is covered, and in some situations, coverage can be denied for injuries that are caused by intoxication, caused by drugs, that are felony related, that are self-inflicted, that are the result of a fight started by the worker, and that are the result of a company policy violation. Coverage may also be denied to independent contractors, to an employee already terminated or laid off, or to an accident that occurred off the job or worksite.

There are two types of methods in which workers' compensation policies are paid:

1. Employers can pay for workers' compensation through an annual audit.
2. PAYG (Pay-As-You-Go) workers' compensation allowing employers to pay their premiums after each payroll.

In the event an employee files a workers' compensation claim, that does not mean it's a closed case – not by any means. Companies can dispute claims made by employees, and once a dispute has been launched, the state's worker's compensation board will move in to investigate the claim and render a decision. The investigation process involves employees being examined by physicians on behalf of the state. Since doctors in their role are working with the state during an investigation, patient confidentiality does not exist, and statements made during the evaluation process could be used by an employer to dispute the claim.

What does workers compensation include?


Workers' compensation, which covers the cost of work-related injuries, like medical bills and lost wages, includes employers paying for the insurance based on an employee's class code. It is against the rule for an employer to ask an employee to contribute to the cost of compensation. How much does an employer pay? This is based on a specific class code and rate. Your insurance provider will make this calculation. The type of company and type of employees and their responsibilities will determine liability. Here's an example: a construction worker will have a higher risk of injury on the job, which means the rates would be higher. A less dangerous work environment will yield lower insurance rates. Workers compensation insurance safeguards both businesses and their employees.

How can our clinic help with employment health/occupational needs?


Our facility offers employer paid services, workers comp, DOT certification, drug testing, pre-employment physicals, and work-related injuries and illnesses. We provide prompt evaluation and relief for your non-life-threatening illnesses and injuries – all under one roof. We have state-of-the-art X-ray machines to evaluate your injuries and we also provide crutches/splints whenever needed. Back pain, a cut, ankle sprain, or a regular physical or drug testing – we can help take care of all your needs at our facility that boasts the best in healthcare and technology.

We encourage you to visit our website and contact us if you have experienced a workplace accident. We serve patients from Ellington CT, Unionville CT, East Haven CT, Cromwell CT, East Windsor CT, Somers CT, Burlington CT, Canton CT, Branford CT, New Haven CT, Middletown CT, Rocky Hill CT, and surrounding areas.